Holiday Cheer and Ideas for Preschoolers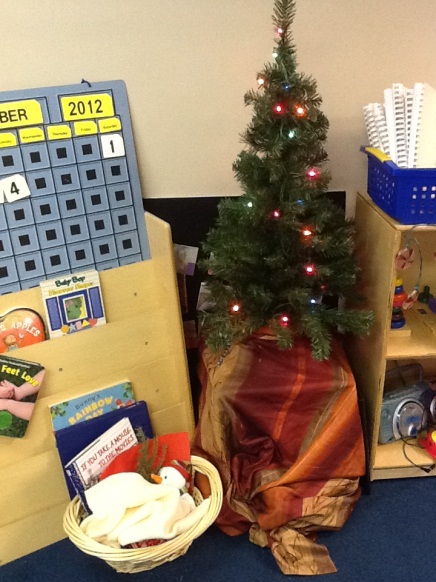 By Katie Armstrong, Preschool Teacher at the Foundation for Blind Children, Phoenix, Arizona
(This blog post is a follow-up to Story Box Ideas for Holiday Stories)
I teach in a preschool classroom for students with visual impairments, and love every second of it!! I find it most rewarding to see the kids in my class actively engaged and enjoying the work in the room, which is not hard to do when it is full of holiday cheer!! All the activities that I have described below are also things that would be easy to do in the home with a child or to bring into the classroom if you are an itinerant teacher.  All my materials are things that I find around my house, our school or Goodwill and other thrift shops and are easily available.  We have a Christmas tree with lights that we are slowly but surely decorating, a radio tuned into a holiday station attached to a switch for listening at any time and holiday materials spread through all the work available. How can learning not be fun when there are bells that jingle, ornaments and Christmas trees involved?? 
I had many different ornament works available, I had some scratch ornaments to work on some writing skills, some beading candy canes for fine motor and patterning and some fruit loop stringing to make garland.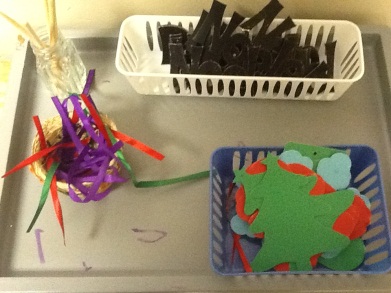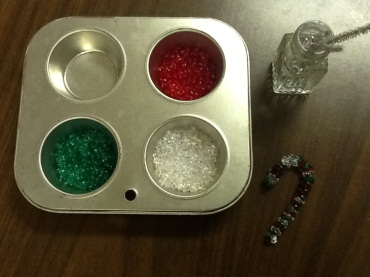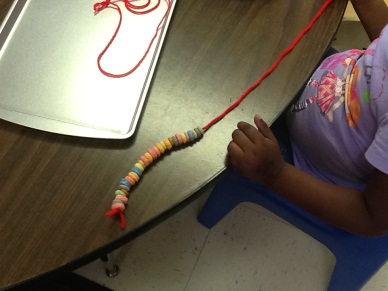 If you have ever tried, you already know that stringing popcorn is one of the hardest things to do!!  The mouse in the story If You Bring a Mouse to the Movies makes it sound very easy, but it is not!!  So we skipped stringing popcorn, but we did all have the chance to pop our own popcorn with a popcorn popper (unfortunately I forgot to take a picture, this is always a hit). In the past I have put the popcorn popper on a switch so the kids can do the entire process (ours has no on/off button -- it just gets plugged in to turn on) but my APH power box was on the fritz so I had to plug in the popcorn popper and unplug it when it was done.  But the kids loved watching kernels, feeling the machine, listening to the popping and of course eating there popcorn when it was done.  I popped a little extra for sensory exploration later and to make our popcorn stringing collage.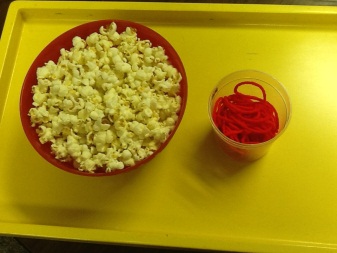 Some additional things that I have had going on in my classroom is a radio attached to a switch programmed to holiday music (this was also used with the mouse story).  Honestly, this would be better if I had holiday music on tape because the radio is old and the station gets staticy, but it is still a huge hit.  Most of my class is able to use the radio without the switch if they wanted, but they really like having things on a switch and this way it doesn't get left on.  It's also available for the few who need the switch.  I attempted to also put some Christmas lights on a switch, but like I mentioned earlier my APH power box has been on the fritz… but lights on a switch is always a hit.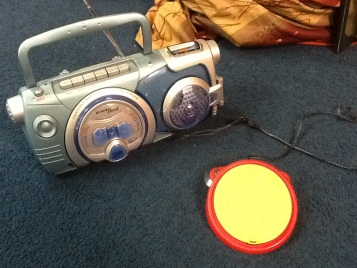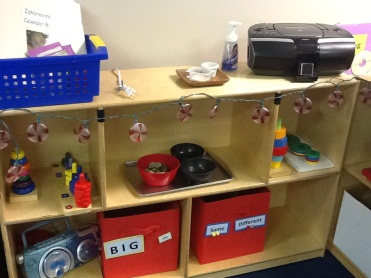 I also have out this hole punching work.  My intention was that the kids would punch out holes (and work those fingers in the process) and then use them to glue down as ornaments or lights, but the work has taken on a life of its own.  The kids are punching holes (lots of them) out of pieces of holiday cards and then glueing them down into a card and giving them to their friends!!  I wish I could take credit for the card making and giving, but it was all them!!  I also have some scent matching jars out.  I found these little glitter containers at Micheal's for a few dollars for a 4 pack. They have a top like you would find on a spice jar, or glitter that can be turned so you can dump or sprinkle out the contents.  I taped around the edges with colored masking tape so you couldn't peek in, and then put in different scents.  I taped half with green and half with red so it was a little easier to find a pair.  The kids have to take one, turn open the top, smell it and then try to find the match in the opposite colored jar.  This work has been explored some, but honestly has not been a hit.  I think it is an important skill so I will probably try to include it during circle time next week to draw in some interest!! 
During group time, or circle time, I have been introducing some different Holiday songs.  I have some students who are primarily non-verbal and are working on using pictures to make choices.  So for all the songs that I am introducing I created a card.  I have introduced one song at a time with the different texture symbols, and will start to use them for choice making next week.  I need to mention that all of my kids at are a level beyond real objects.  All of the students can understand partial objects or representations of objects.  If you have a child that is not yet at this level you will want to use real objects to represent the songs and not partial objects or symbols.  Here is an example of the song choices that I have right now.  I do not have the names provided for you or the lyrics, but you can use any songs that the kids like… my kids favor songs that include bells (you can see a "jingle stick" pictured that we made).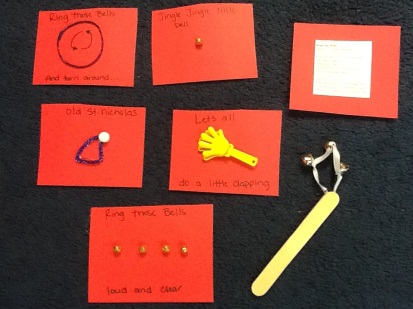 I mentioned earlier that I have holiday cheer set out throughout all my works.  I have bells out for counting right now, and ornaments out for working on one to one correspondance.  I add new things on a daily basis and follow the lead of my children.  I had bells out simply as a transfer work, and one of my students decided that she wanted to count with them…so count with them we did.  We ran out and I had to rush and find more so that she could finish her work!!  Next week I am adding some new things into the room to expand on what we already have going and to keep things fresh and exciting!!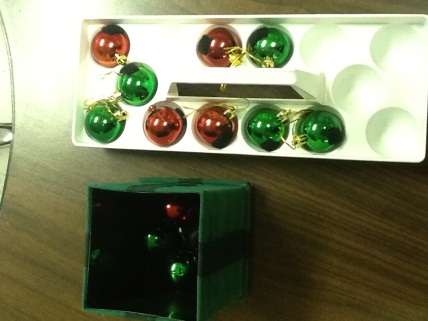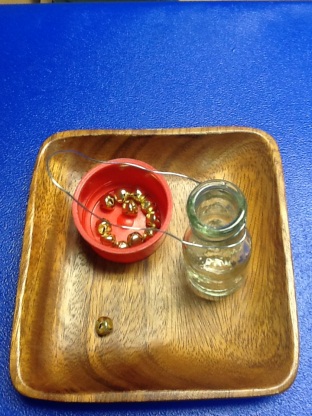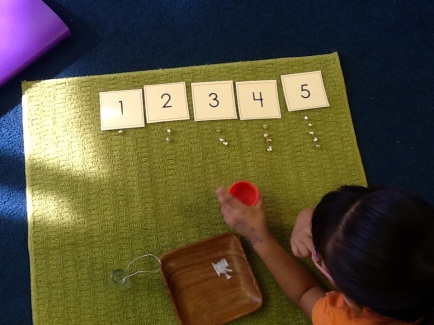 We finished off our week with a bang!!  I had pieces of Christmas trees in the room for smelling and feeling, and we had our little fake tree, but neither of those really compare to a real Christmas tree.  So, I took the class to a Christma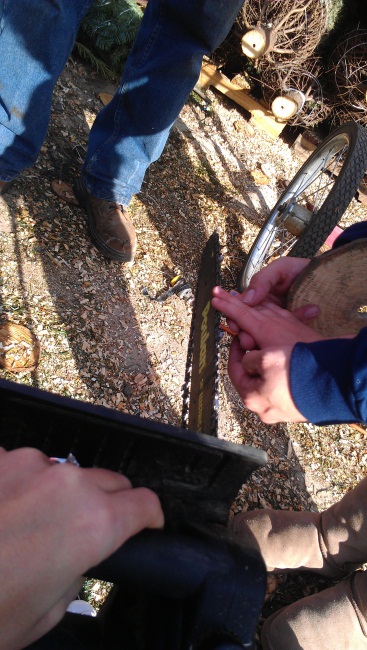 s tree stand, and what fun they had.  I have been lucky to have found a little mom and pop stand that sells pumpkins in the fall and then Christmas trees in the winter and they are just wonderful!!  They let my class come and explore all the trees and then showed us how you can tell how old a tree is.  They showed us how they care for their trees, how they kept them watered and how they had to cut the bottoms off before they put them out and why.  Did you know that when the trees are cut down the sap trys to "heal" the wound??  But healing the wound makes it so the trunk can not absorb water, so before they can put a tree out they have to use a chain saw to cut off the bottom.  The kids really enjoyed seeing the chainsaw and watching/listening to the man cut off a bottom. And of course I let them touch the chainsaw (it was unplugged) and trust me, it was a HUGE hit!  We used hand under/over hand assistance to help with a "gentle" touch and the importance of not running our hand along the blade, simply patting it.  It was a very good learning experience, and the kids really did great following directions and looking with gentle hands.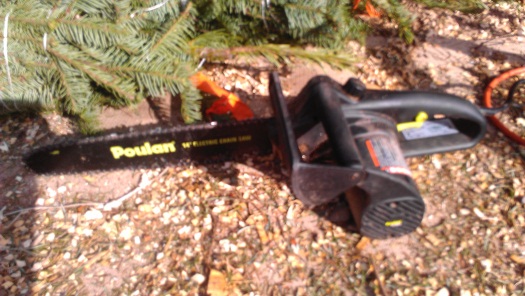 My kids had a great time collecting all those bottoms of the trees that had been cut off, and they will be used in the classroom for the rest of the season.  Now, the one thing I will need to expand on in the near future is the concept of "trunk", one of my very bright students compared the tree trunk to the trunk of an elephant!!  What an observation, but I do think I will need to clearify the difference!! 
This is where I am at for now, but will continue next week with the story There was an old lady who swallowed a bell by Lucille Colandro.  This story is always a blast.  I use a story box with this also, again just as Jaime described.  I will have it brailled and I will leave it out.  This story allows for sequencing and repeated lines.  If you have never read the old lady stories, any of them, you should, the kids really enjoy the repetition and just plain old silliness involved!!