Piano Braille Design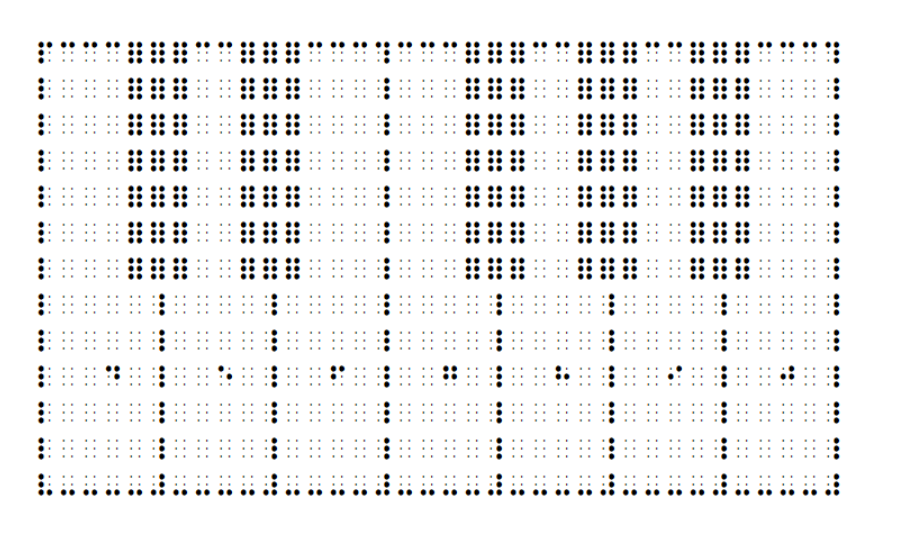 If you and/or your student is already familiar with the musical staff, try this drawing in braille of a piano with the C Major Scale! You can challenge yourself or your student to create this piano using the quarter notes, half notes, and whole notes!
*Make sure you insert your paper into the Brailler horizontally!
Line 1: make p, make 3 'c's, make 3 full cells, make 2 'c's, make 3 full cells, make 3 'c's, make 'this', make 3 'c's, make 3 full cells, make 2 'c's, make 3 full cells, make 2 'c's, make 3 full cells, make 3 'c's, make 'this'
Line 2: make l, space 3 times, make 3 full cells, space 2 times, make 3 full cells, space 3 times, make 456, space 3 times, make 3 full cells, space 2 times, make 3 full cells, space 2 times, make 3 full cells, space 3 times, make 456
Line 3: make l, space 3 times, make 3 full cells, space 2 times, make 3 full cells, space 3 times, make 456, space 3 times, make 3 full cells, space 2 times, make 3 full cells, space 2 times, make 3 full cells, space 3 times, make 456
Line 4: make l, space 3 times, make 3 full cells, space 2 times, make 3 full cells, space 3 times, make 456, space 3 times, make 3 full cells, space 2 times, make 3 full cells, space 2 times, make 3 full cells, space 3 times, make 456
Line 5: make l, space 3 times, make 3 full cells, space 2 times, make 3 full cells, space 3 times, make 456, space 3 times, make 3 full cells, space 2 times, make 3 full cells, space 2 times, make 3 full cells, space 3 times, make 456
Line 6: make l, space 3 times, make 3 full cells, space 2 times, make 3 full cells, space 3 times, make 456, space 3 times, make 3 full cells, space 2 times, make 3 full cells, space 2 times, make 3 full cells, space 3 times, make 456
Line 7: make l, space 3 times, make 3 full cells, space 2 times, make 3 full cells, space 3 times, make 456, space 3 times, make 3 full cells, space 2 times, make 3 full cells, space 2 times, make 3 full cells, space 3 times, make 456
Line 8: make l, space 4 times, make 456, space 4 times, make 456, space 4 times, make 456, space 4 times, make 456, space 4 times, make 456, space 4 times, make 456, space 4 times, make 456
Line 9: make l, space 4 times, make 456, space 4 times, make 456, space 4 times, make 456, space 4 times, make 456, space 4 times, make 456, space 4 times, make 456, space 4 times, make 456
Line 10: make l, space 2 times, make C eighth note, space 1 time, make 456, space 2 times, make D eighth note, space 1 time, make 456, space 2 times, make E eighth note, space 1 time, make 456, space 2 times, make F eighth note, space 1 time, make 456, space 2 times, make G eighth note, space 1 time, make 456, space 2 times, make A eighth note, space 1 time, make 456, space 2 times, make B eighth note, space 1 time, make 456
Line 11: make l, space 4 times, make 456, space 4 times, make 456, space 4 times, make 456, space 4 times, make 456, space 4 times, make 456, space 4 times, make 456, space 4 times, make 456
Line 12: make l, space 4 times, make 456, space 4 times, make 456, space 4 times, make 456, space 4 times, make 456, space 4 times, make 456, space 4 times, make 456, space 4 times, make 456
Line 13: make 'v', make 4 hyphens, make number sign, make 4 hyphens, make number sign, make 4 hyphens, make number sign, make 4 hyphens, make number sign,  make 4 hyphens, make number sign, make 4 hyphens, make number sign,  make 4 hyphens, make number sign