Format Your Word Documents with JAWS and NVDA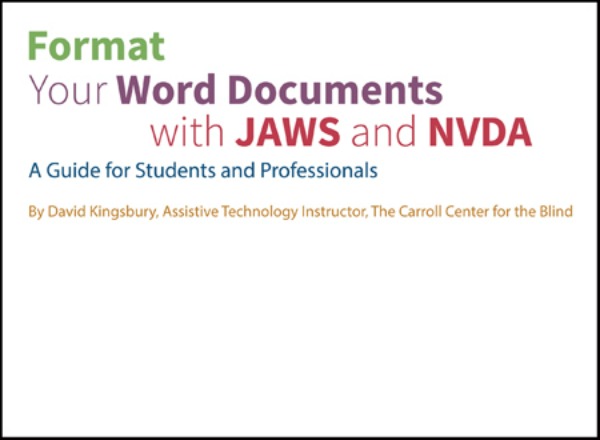 In this guide for students and professionals, David Kingsbury, Assistive Technology Instructor at The Carroll Center for the Blind, lays out the key steps for preparing professional-looking Word documents using the two most popular PC-based screen reader programs: JAWS and NVDA.
Particular attention is devoted to formatting requirements of the three most commonly used academic style guides: APA, MLA, and the Chicago Manual of Style.
Among the topics covered:
using ribbon menus;
font, paragraph, and margin settings;
adding headers that adhere to academic style guide requirements;
headings and styles;
constructing tables;
managing citations and bibliographies;
tools for proofreading and review.
An appendix with a list of keystrokes is included for convenient reference. You can also download a set of files with practice exercises to hone your skills.