Tactual Development Resources from Royal Dutch Visio
Royal Dutch Visio, Centre of expertise for blind and partially sighted people offers a number of free publications, as well as assessment tools available for purchase, on the topic of tactual development for children who are blind or visually impaired.
In Touch: Helping Your Blind Child Discover the World is a free publication from Royal Dutch Visio (2010).   Written by Ans Withagen, Lieke Heins, Anneke Blok, Anneke Betten, Annelies Buurmeijer, Monique Mul, and Lilian Oosterlaak, this 152-page document explores perception through touch.  Designed for parents, it is a rich resource of ideas and activities to stimulate tactile development. The information would also be helpful for occupational therapists (OTs), teachers, early intervention specialists, and others working with children with visual impairments.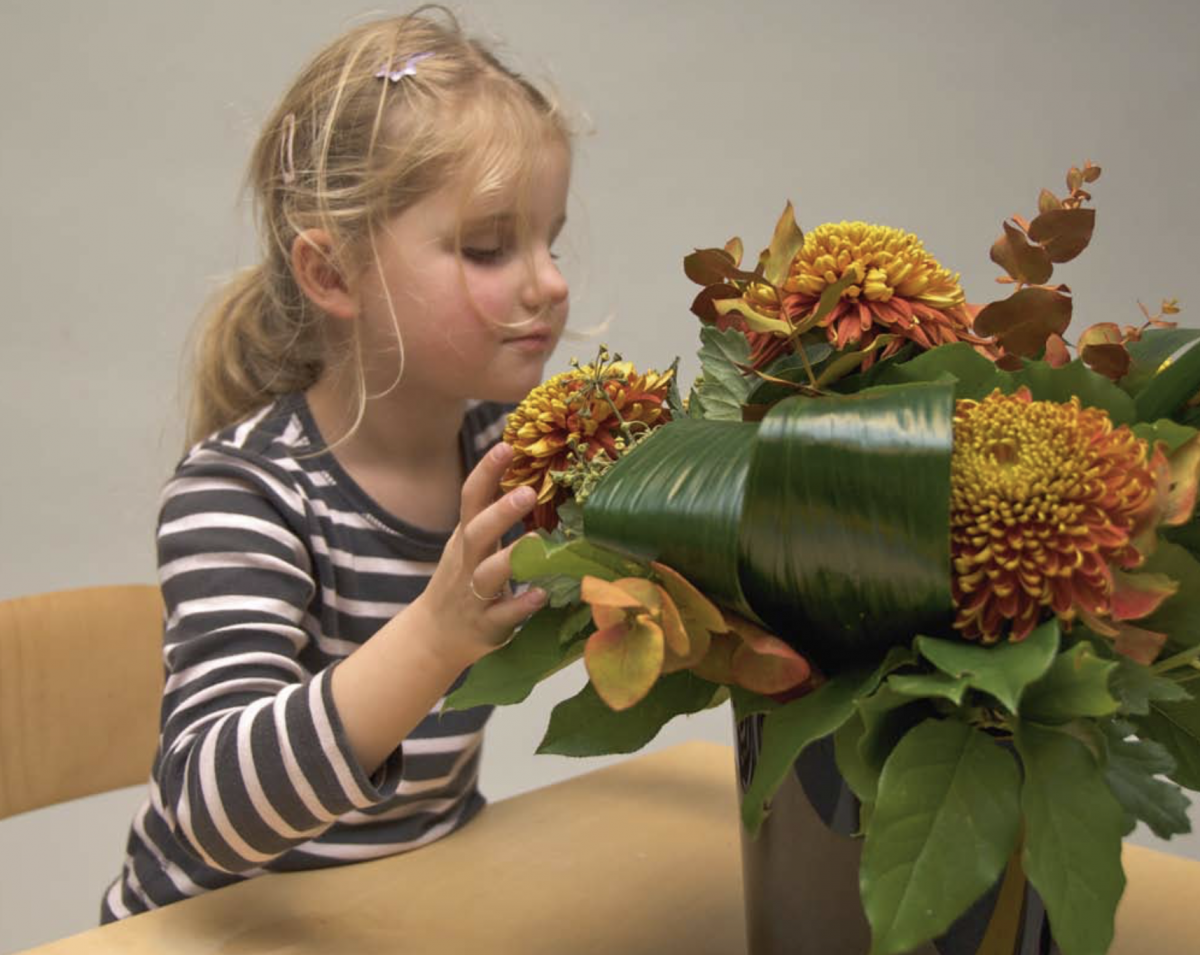 The first section, titled "Theoretical", provides background information about touch and tactual development. Chapter 2 explains the importance of touch for the child as a means of making sense of the world. Chapter 3 explores the factors that influence a child's tactual development. Examples are included to clarify and enhance the text, and suggestions to promote tactile development are included.
The second section, titled "Practical", is dedicated to ideas and materials for tactile games that parents and children can play together. The games have been categorized according to the categories used in Tactual Profile, an observation instrument for assessing tactual perception and functioning.  These are:
Tactual Sensory functioning
Tactual Motor functioning
Tactual Perceptual functioning
Practical skills
For the sake of clarity they have re-named the first three categories:
 Tactual Sensory functioning: Touch and perception
 Tactual Motor functioning: Touch and movement
 Tactual Perceptual functioning: Touch and understanding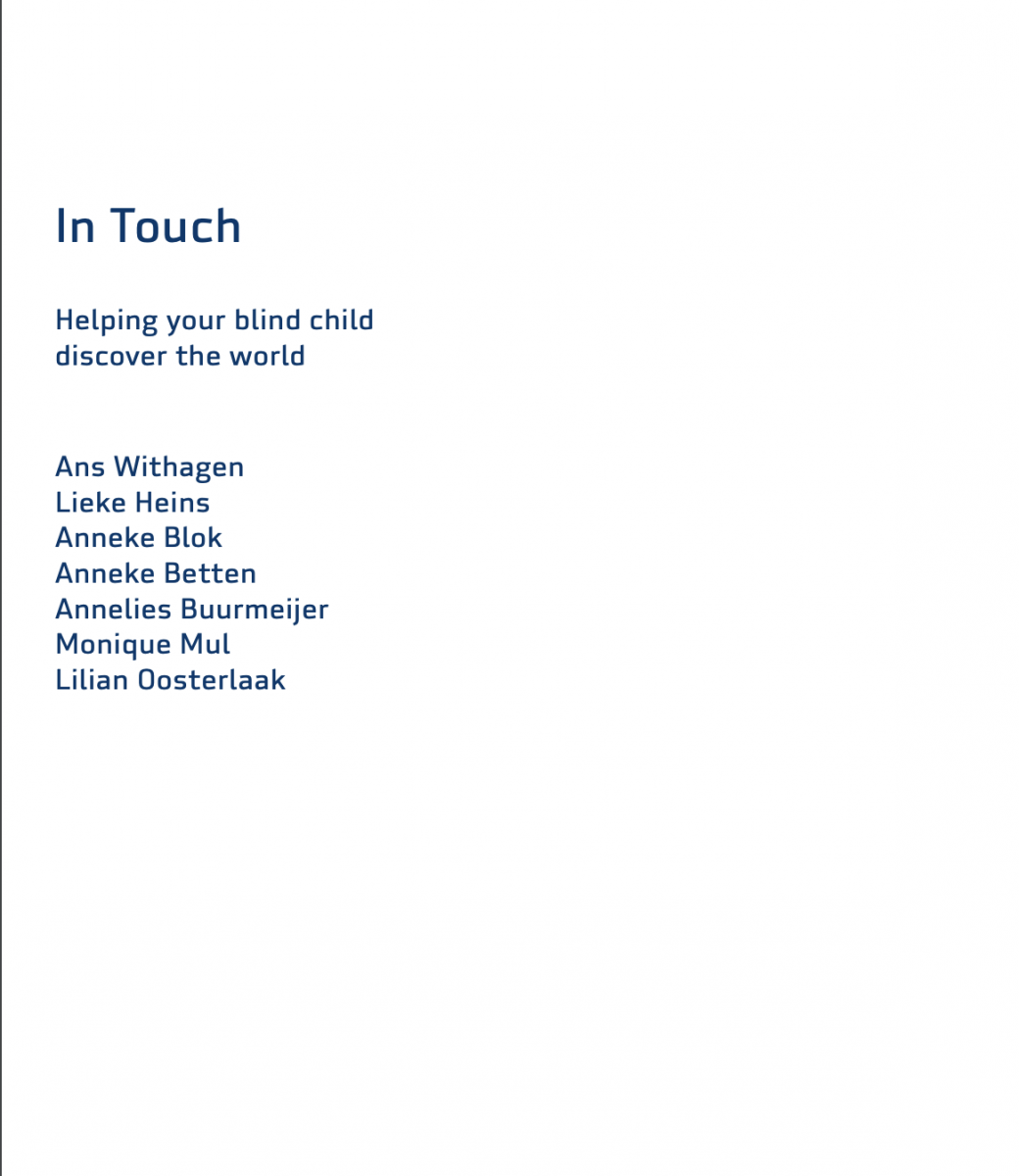 Table of Contents (partial)
1 What we know about touch

1.1 The senses, a bridge to the world

1.2 Touch

1.3 Forms of touch

1.4 Functions of touch

1.5 Responses to stimuli

1.6 Ways of touching

1.7 Characteristics of touch

1.8 Forms of "interpersonal touch"

​2 Making sense of the world

​​​2.1 Perception in blind children

2.2 The importance of experience

2.3 Words and concepts

2.4 The attitude of the child

3 Factors that influence tactual development in blind children

​3.1 The (home) environment

3.2 Physical ability

3.3 Personality traits

3.4 Mental ability and development

3.5 Touch strategy

3.6 Memory

3.7 Motor skills

3.8 Tactual areas

3.9 Tactual experience

3.10 Sequential perception

3.11 Tactual concept database

3.12 Visual database 
4 Introduction 

5 Touch and perception

5.1 Tactual awareness

5.2 Noticing

5.3 Body awareness

5.4 Touch sensitivity

5.5 Proprioception

6 Touch and movement

6.1 Tactual exploration

6.2 Manipulating

6.3 Two-handedness

6.4 Extrapersonal and peripersonal space

7 Touch and conceptualisation

7.1 Recognising

7.2 Perception of detail

7.3 Discrimination

7.4 Constructing/reproducing

7.5 Part-whole relationships

7.6 Tactile-spatial perception

7.7 Figure-ground perception

7.8 Third and second dimension 

7.9 Tactual language

8 Practical skills

8.1 Touch strategy

8.2 Self help skills

8.3 Game-activity 

8.4 Linking function to object 

8.5 Action-sequence 

8.6 Dealing with variables
The Tactual Profile is an observation instrument for charting the tactual functioning of children with a severe visual impairment from birth to sixteen years old. The instrument concentrates on the tactual requirements that the everyday environment places on perception. Tactual perceiving and functioning are explicitly viewed in a broader sense than reading braille or understanding geographical maps or graphs. For example when a visually impaired child is playing with dolls, it has to know how to hold a spoon and be able to find the doll's mouth in order to feed the doll.
There is also a Tactual Profile asssessment tool for students with MDVI (multiple disabilities and visual impairments.  Learn more.
Contact Anneke Blok  or email tactualprofile@visio.org if you would like more information or if you are interested in purchasing materials.  
This is the recording of a presentation give in April 2021 at the Tactile Reading Conference in Oslo.
Feel Free MDVI offers activity ideas for children with multiple disabilities and visual impairment that are free to download.  The activities are divided into three categories, each of which has numerous sub-categories.
Learn more about Feel Free MDVI.
Ans Withagen did her dissertation on Tactual Functioning (2013).  It includes the following sections:
The Tactual Profile: development of a procedure to assess the tactual functioning of children who are blind 
Tactual functioning in children with blindness: a clinical perspective 
Haptic object matching by blind and sighted adults and children 
The use of Exploratory Procedures by blind and sighted adults and children
Short Term Memory and Working Memory in blind versus sighted children
Contact her if you would like more information.