Paths to Literacy has Articles in Spanish and French
Did you know that Paths to Literacy has articles in Spanish and French? We are lucky enough to have professionals in our community that are bi-lingual and can provide some of our articles in other languages as we try to meet the needs of our viewers with as many adaptations as possible.
Articles in both Spanish and English can help families access information in their native language.
Are you bilingual and a professional in the vision field? We would love to have your ideas and lessons in other languages! 
Spanish
Here are a few examples of Spanish articles:
In the early stages of literacy, real objects can be attached to each page, so that the child can explore each item and interact with it. In the book shown in this video, for example, there is a light switch that turns a real light on and off. Attaching real objects to pages can help to make the connection from an actual experience to beginning literacy. See the original article in English: Joseph's Bath Book: An Object Book for Early Literacy
Te Cuento un Cuento: Early Literacy Ideas from Argentina
Marcela Viviana Toscano, an early intervention specialist from the province of Buenos Aires in Argentina, created a PowerPoint presentation about an early literacy project for families. The presentation includes information about the importance of early literacy and ideas for incorporating it into daily routines. Activities include early communication, making choices, and providing support and a workshop for families. The presentation, which is in both English and Spanish, highlights some important points to remember in early literacy.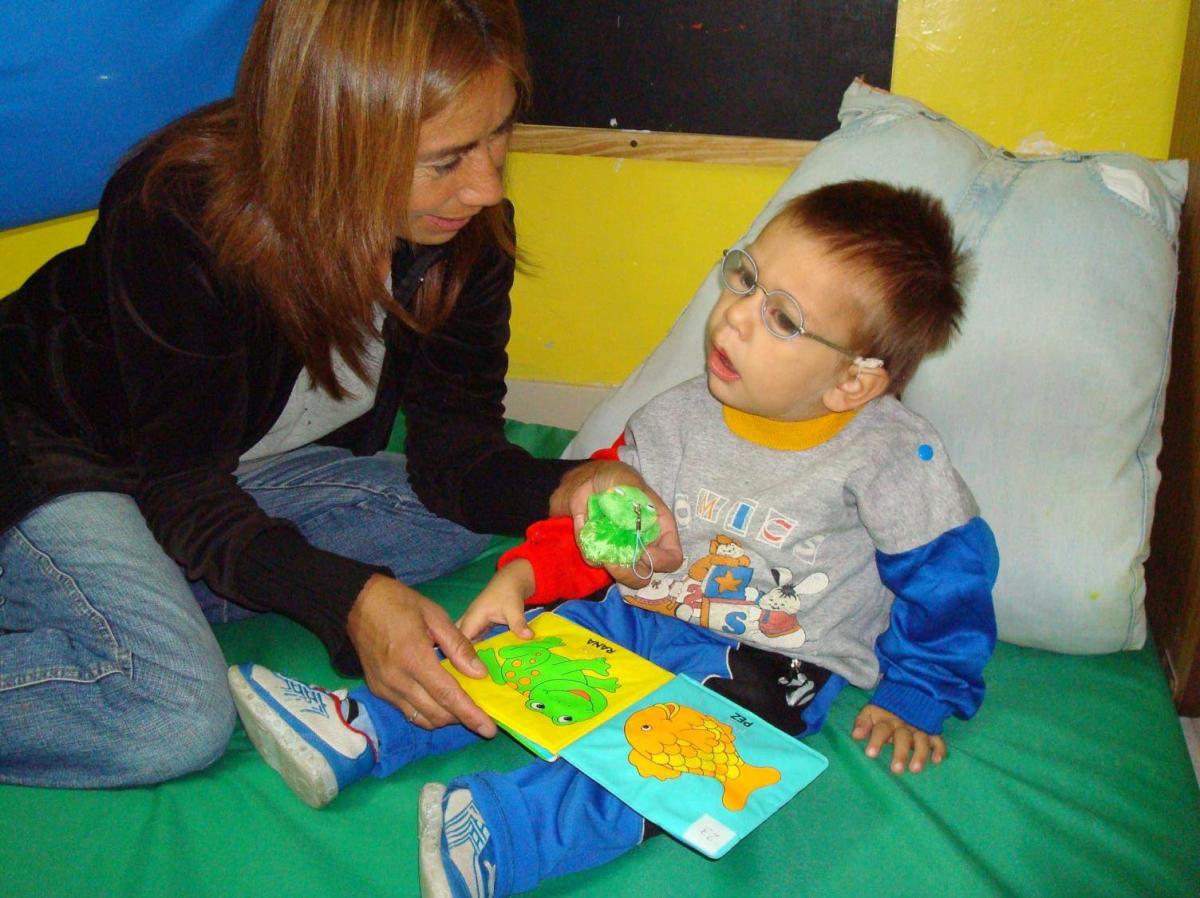 Ballyland Mágico: Spanish Version of App
The Spanish version of the popular Ballyland Magic Plus app is available. Created by Phia Damsma, this app is designed for children who are blind or have low vision to learn and practice a number of touch gestures for VoiceOver, Apple's built-in screen reader.  
The app supports students who are blind or have low vision to build fundamental (assistive) technology skills and other capabilities that are part of the Expanded Core Curriculum (ECC).
French
Abracadabraille is a French website devoted to braille literacy and the education of children with visual impairments. It launched using translations of more than 150 articles orginally created from Paths to Literacy. Abracadabraille's hope is to create a similar type of website for teachers and families in French-speaking countries. The site was created by Marc Angelier, who has been a TVI for 20 years, and Marie Oddoux, who is an OT and Low Vision specialist. They invite members of the community to share articles in French.
Site dédié à la déficience visuelle et à l'enseignement du braille
French Website on Braille Literacy: Abracadabraille.org
If you are are bilingual and would like to submit an article for Paths to Literacy in other languages please contact us at lisha.yochimowitz@perkins.org