Mercy's Path to Literacy
Mercy is a fifth-grade student who started a new public school this year after spending a year and a half doing virtual learning, one year of that being with REACH Cyber Charter School. Mercy's first language was Mandarin. She was not fluent but understood most of what was spoken to her, until age two when she began learning English. In the beginning, as she was learning English, we implemented some basic sign language to help with communication and her frustration, especially at mealtime.
Mercy has albinism, a lack of pigment in the skin, hair, and eyes. This condition brings varying degrees of vision impairment with it. Mercy's vision is significantly impaired. We were able to get her early intervention services with a teacher of the visually impaired (TVI).  During her preschool years, Mercy attended a vision support preschool classroom and transitioned into a local preschool with support from an early intervention team.  Mercy wore glasses, had magnification devices, a cane, slant board, and access to adapted materials in this classroom.  She enjoyed repetition books like Pete the Cat by James Dean (Illustrator), Eric Litwin (Author), and "listen and read" type books.
Her preschool was very accommodating and worked at making it a positive experience for Mercy. Support staff like her TVI, OT (occupational therapist), speech therapist, and O&M (orientation and mobility) instructor were able to come to her preschool. Mercy was able to complete her Kindergarten year there as well.  
As her mom, I made more of a deliberate attempt to provide learning opportunities for Mercy so that she was exposed to as many literacy tools as possible. I worried about her developmental milestones more with her than my older children due to her vision impairment and the first two years outside our home.


Transition to Elementary School
Transition into the "school-age" program can be a very worrying time for parents who have a child in need of support services. Our family was no exception. I had so many concerns and so much to learn. I depended heavily on her educational support team for guidance as the idea of starting a new school with a new group of educators felt stressful. I worked closely with Mercy's TVI and OT who helped us through the transition process.
Mercy attended a local private school and had "wrap around" services at her public school for vision support through the dual-enrollment process. Even though Mercy has a vision impairment she is primarily a visual learner, however since there are certain challenges to that she also developed strong auditory skills to compensate for her vision loss. In second grade Mercy struggled with penmanship. Both print and handwriting were difficult for her. Letter placement, spacing, and connecting letter parts were challenging even with the use of bold lined paper and dark pencils. Writing took a lot of effort. Between hand coordination and visual fatigue, she was easily frustrated. The expectations in her classroom were often not appropriate for her, adding to her struggle and causing a negative attitude towards literacy.
In third grade, her classroom teacher, an aide, and I became a great team by scanning and enlarging worksheets, highlighting pertinent information and directions, and adapting her curriculum as best we could. Her teacher began implementing the use of her iPad, eventually leading to us providing an individual iPad for Mercy to use. Normally, developing adaptations to materials would be the role of a TVI but due to the private school setting, her classroom teacher, other school staff, and I were able to provide this support.  Her teacher would scan worksheets to the iPad and Mercy would utilize magnification to fill in answers with a stylus pen. This improved her written print and made language arts a better experience for her. She also began utilizing more auditory books with her iPad and headphones.
Mercy was also learning braille with her TVI but has preferred to use large print and auditory support to access her curriculum. She would listen to her chapter books well but when reading visually, she was still working with Dr. Seuss type books, and this was a concern.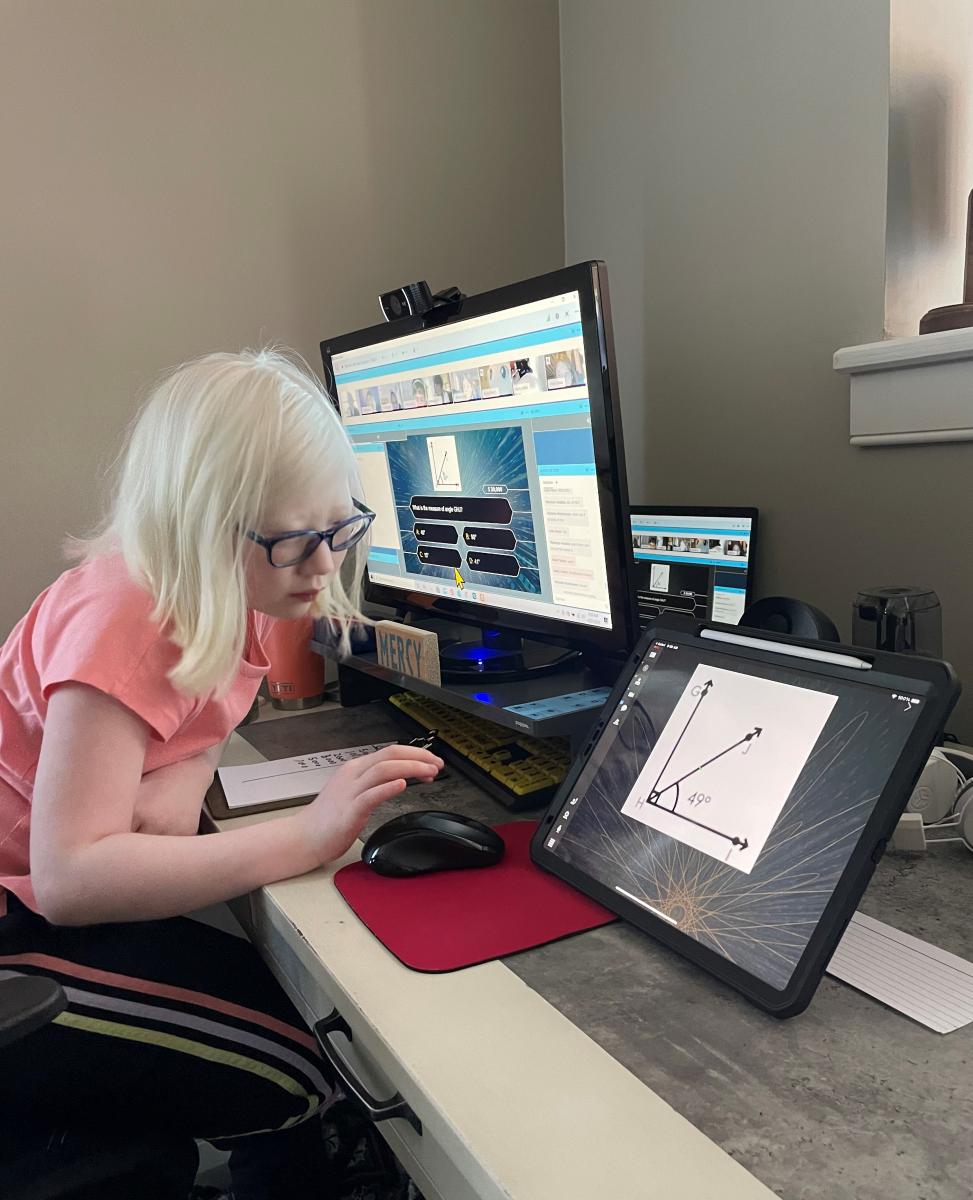 Then Came the Pandemic  
Once COVID-19 closed down our schools, Mercy completed her third-grade year virtually and the challenges of virtual learning for a student with a vision impairment became more apparent. We quickly learned that for Mercy to be successful with continued at home learning, we would need to find a school that could provide additional support. Mercy started online learning through the REACH Cyber Charter School. Enrolling her in the public charter school opened the door to access better support and more advanced technology that is available to students who are blind or visually impaired.
Learning from home in front of a screen all day was a huge adjustment, as for most learners. The materials were full of visual clutter and if the font was made larger around the images, it was very hard to scan across a line of reading material.  At the beginning there was no TVI in place for the online learning and Mercy relied heavily on her dad and I to help her access the materials. REACH brought a TVI in from their high school program to work with us and teach basic shortcuts to utilize the standard computer accessibility software. Mercy did not enjoy the robotic voice reader and struggled with comprehension.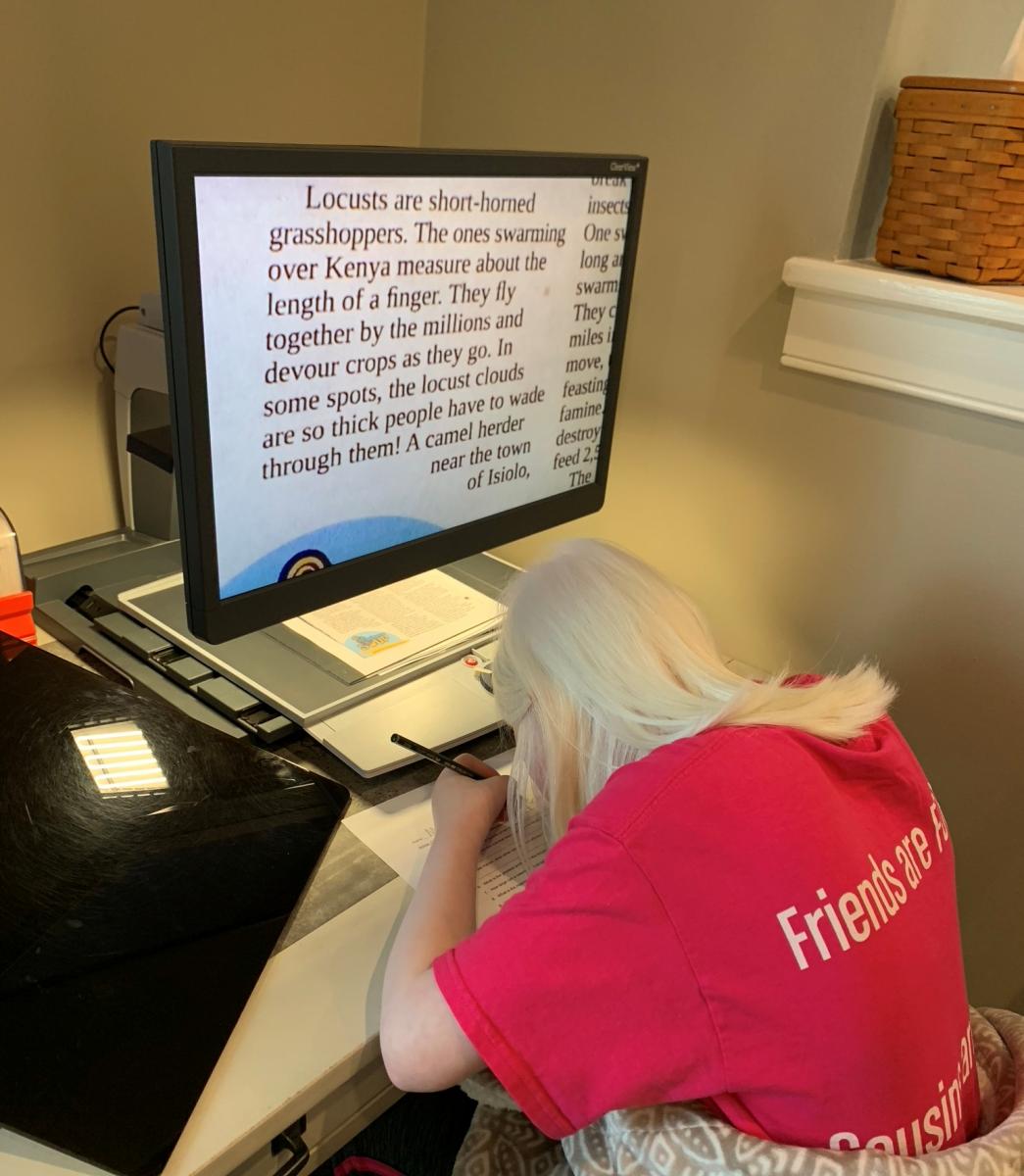 In fall 2020, her now current TVI came in to do an assessment. After that, she was able to aquire the proper modifications and support for Mercy.  Mercy's primary TVI also added another TVI, Kelly Lauer, who added technology expertise to her support team. Together they worked with REACH to get technology supports in place and begin training Mercy to use new software, which was exactly what she needed. Her school was very supportive in getting the necessary adaptations in place, although the delay posed challenges and setbacks as Mercy continued to adjust to virtual learning.  Many of her online learning challenges and frustration happened because materials were inaccessible until she had the proper support. Once the vision support and necessary tools were in place, Mercy was better set up for success and grew to be a more independent learner.
As COVID restrictions changed and schools opened back up, we enrolled Mercy in public school at the start of her fifth-grade year because we wanted to have opportunities for peer interaction and creating more friendships with students her age.  This was yet another large transition coming from online learning for 1.5 years.   
Her local district has been very accommodating during this transition time. Even good change can be difficult.  Luckily Mercy's TVI, Kelly, continues to teach her and provide the expertise needed at this point in her education with technology and accessing the curriculum.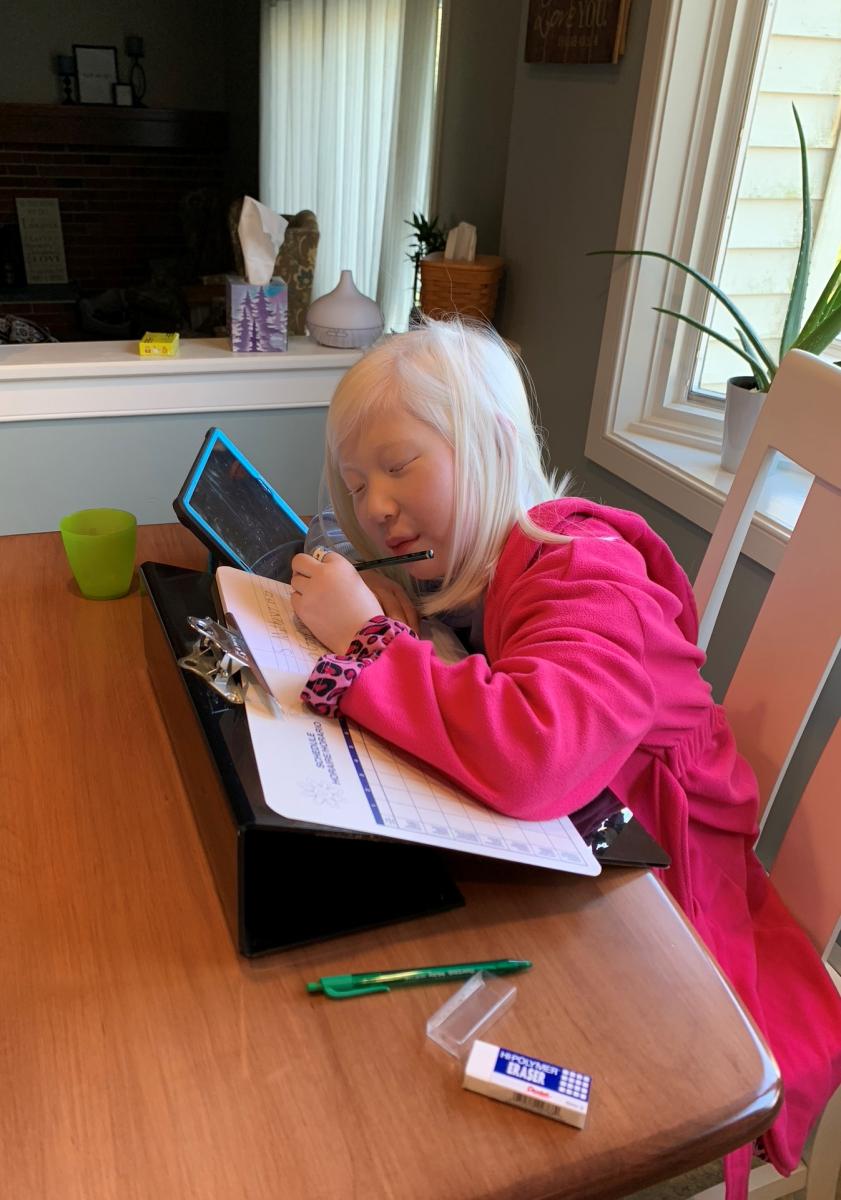 Technology and Tools for Access Learning
Due to the numerous educational environmental changes Mercy has experienced over her academic journey thus far, she has also required a shift in her tools to access her educational materials. During in person elementary, Mercy utilized desktop magnifiers and large print texts. When switching to virtual, the screen fatigue, glare, and brightness brought on new hurdles. Virtual learning was when screen magnification/reading software was introduced. Mercy also used a large screen monitor, dual monitors via a second screen or iPad, and audio support from app readers or audiobooks from services such as Bookshare or Audible.
As Mercy experiences another transition to in person public school, the larger classroom setting shifts the technology needs, as will the anticipated shift to middle school next year. During her in person fifth-grade year, Mercy used a large screen laptop loaded with the screen magnification/reading software Windows magnifier, ZoomText (Fusion), large print high contrast keyboard stickers, large desktop magnifier for near and distance viewing, large print workbooks/worksheets, as well as trialing portable magnification options for transition to middle school.
One of Mercy's strengths is that she knows her preferences and is not shy about articulating them. She is able to explain what she needs in order to access her materials visually, whether in print or digital. Knowing her preferences and being able to explain them to her TVI is a valuable advocacy skill that will continue to benefit her as she continues to transition to middle school, high school, and post-secondary.
Final Thoughts as We Move Forward
As you can see, Mercy has had many transitions throughout her early education experience. Each year has brought challenges, unforeseen struggles, and opportunities to learn new ways of doing things. This comes with some trial and error, but overall, Mercy continues to thrive and grow increasingly independent. I am thankful for advancing technology and a strong support network to guide her through literacy in her school year now and in the years ahead.